The DFM LongFireHUB allows you to bridge up to 70 meters gap with transmission rate of 400 Mbit/s.
Conventionally the IEEE1934 FireWire cables are only four and a half meter long which is certainly a restriction which can cause a lot of difficulties in every day use. Our LongFireHUB is a professional solution offered by experts.
If the FireWire system for installation, studio and broadcast has to be used in the distributed environments our compact and robust device is the ideal assistant for you.
In a breath, the possibilities are almost unlimited ...

The

center of the action

in the studio

and broadcast

,

the

FoH position, can

easily control

with the

Long

Fire

HUB

microphone amplifier

with FireWire interface

from his seat

and

use it as a

stage box

.

Computers are

installed

in the engine room

while the

FireWire devices

, including

user interface

stay in the studio

.

Thanks

DFM

LongFireHUB

the connection works

smoothly.

The camera

is filming

directly

on the scene

-

the computer can

be placed in the

back of the room

in the far distance

.
Cost-efficient and simple
Einfach einstecken! Mit dem LongFireHUB entfallen aufwendige Verkabelungen über lange Distanzen: Ein einziges kostengünstiges CAT5e/CAT6 Kabel reicht, teure Multicore oder viele Audiokabel werden überflüssig.
Just plug it in! With the LongFireHUB costly cabling over long distances been omitted: A single low cost cable CAT5e/CAT6 is enough, expensive multi-core or many audio cables are unnecessary.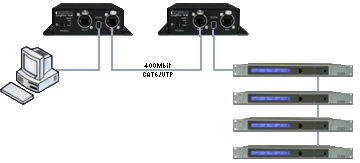 The DFM LongFireHUB was specially developed for professional use in broadcast, studio and sound applications:
Robust metal hoiusing
Mounting tabs

High-quality

Neutrik

EtherCon

connectors

Uplink

and downlink

port (

no adapter necessary!)

Status

LEDs provide

information

at a glance
DFM LongFireHUB, the professional FireWire extender.