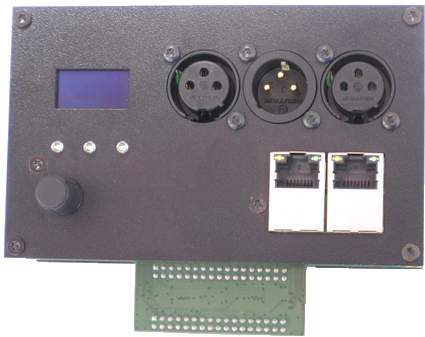 The DMOD3P module is the new supreme class of our DSP-Module series.
Equiped with our powerful 4th Generation DSP core technology, featuring 96 kHz sample frequency and extended network capabilities.
Thanks to it's on board 1 analogue (1 AES digital input) and 4 analogue output channels there is no need for external AD or DA circuits. Since the DMOD3P is designed to create a perfect amp solution for self powered speakers with the 2xLiteMod, 2xDigiMod 2004PFC and 1xDigiMod 3004PFC amplifier modules from Powersoft. It is also compatible with the amplifier module of your choice.
The DMOD3P fits directly in the Powersoft® Heatsink M / L which is a perfect match for your professional application with Powersoft® OEM solutions. The module offers outstanding operating and controlling capabilities for large and complex PA systems. The PC software "NetControl2" allows grouping and remote controlling of various modules in a ethernet network. Well designed analog circuits and an internal 96 kHz high performance audio processing based on the outstanding audio experience.